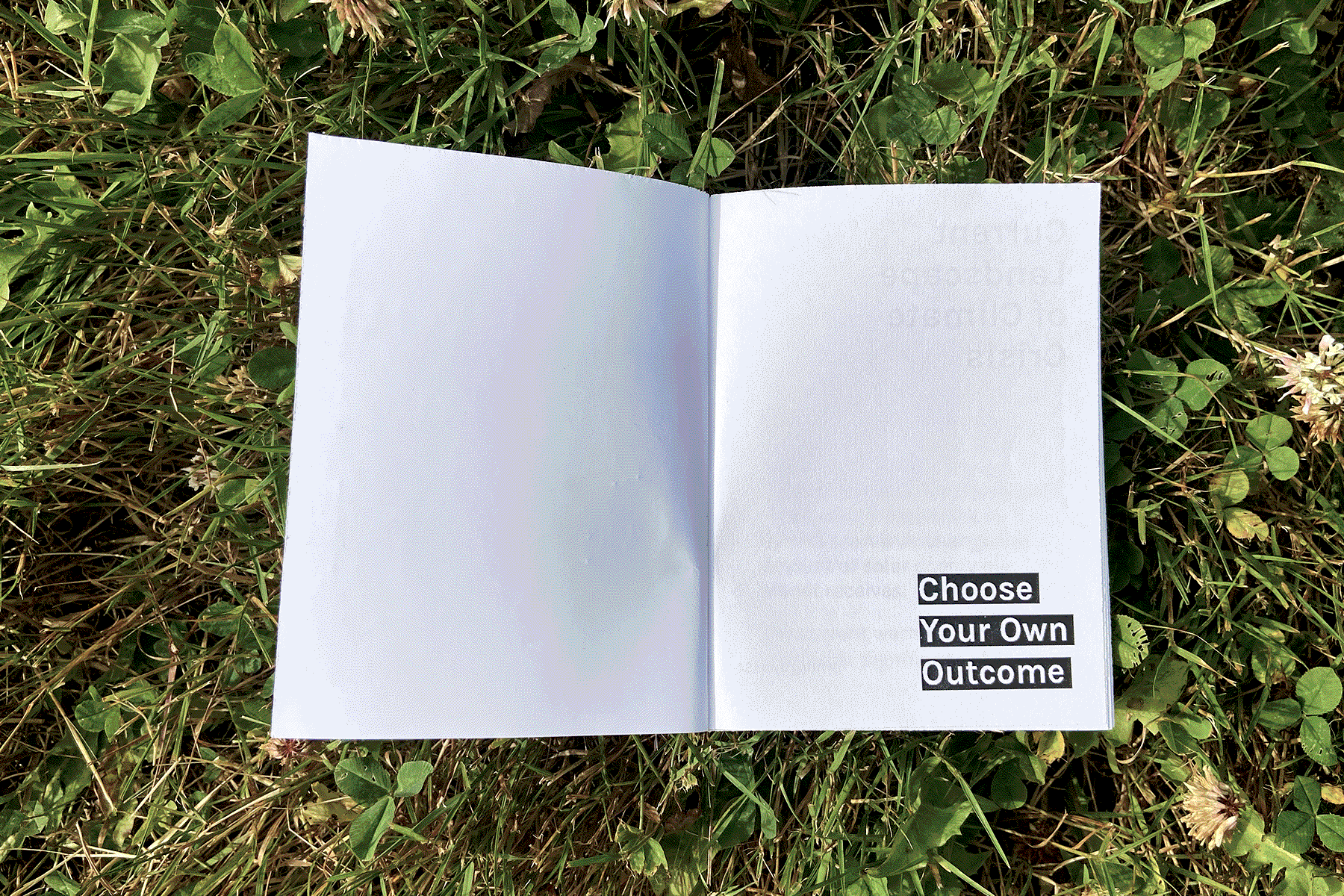 Choose Your Own Outcome

Perfect Bound, Paperback, Black + White, 27 pages
Choose Your Own Outcome
is a take on the "Choose Your Own Adventure" book franchise. These books allowed interactive reading by having readers assume the role of the protagonist and make choices that determine character actions and plot outcomes.
Choose Your Own Outcome
focuses on the story of climate change in our current landscape, "retaining focus on the role of human decisions as a means by which we can both recognize responsibility and care for the other"
(Light et al., "Design for Existential Crisis in the Anthropocene Age")
. While the story is a quick, general approach to a highly speculative future, the decisions are fueled by the critical aspects of sustainable methods. This includes the importance of collective contribution rather than individual responsibility; local, autonomous communities rather than homogeneous capitalistic structures; change as a continuous growth rather than a singular ordeal; and the mentality of human flourishing as the goal rather than mere human survival.
This book aims to force the reader to reflect on their own decisions in sustainable practice and how these choices can affect climate change as a whole. Arturo Escobar quotes Raskin et al., saying, "Humanity has the power to foresee, to choose and to act. While it may seem improbable, a transition to a future of enriched lives, human solidarity and a healthy planet is possible"
(Escobar, "Designs for the Pluriverse: Radical Interdependence, Autonomy, and the Making of Worlds")
.
Made for
Audrey Desjardin
's Graduate Design Seminar.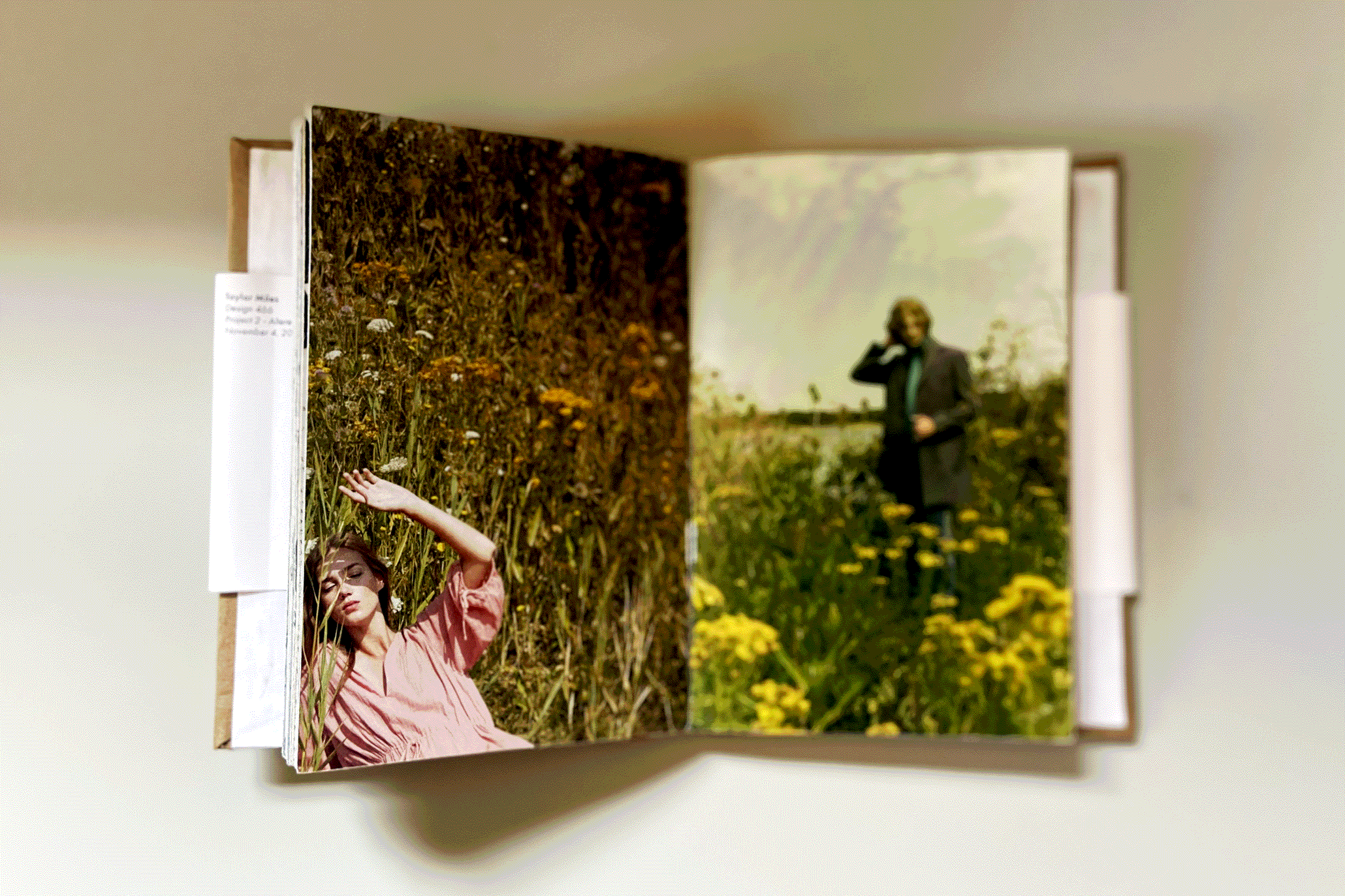 Gentlepeople

Perfect Bound, Hard Cover, Color Collage, 102 pagesGentlepeople
was created by combining two magazines:
Gentlewoman
and
Esquire
. These two magazines focus on fashion as their main subject but with their own gendered demographics in mind.
With
Gentlewoman
as the foundation of this book, pages from
Esquire
were added to directly compare and contrast the two magazines. This book analyzes the agendas of these two fashion publications and the reinforcement of consumerist sterotypes.
Gentlepeople
asks whether these gender norms are fought or perpetuated through their visuals and content.
Made for
Jayme Yen
's Publication Design course.
Research Zines

8-Page Zines, Four-Part Series
These zines were a part of the research process for my thesis, Tomorrow's Book: Artifacts in the Anthropocene. Main focus areas are the meaning of objects, the importance of storytelling in conservation and designpresent and future Anthropogenic impacts, how to design for far-in-the-future societies, a history of the destruction of books and censorship, arguments for the need of physical books vs. digital solutions, design for humans and nonhumans, and the designers' role as an interpreter.
This series features 6–7 readings, videos, or discussions per zine. This included a quote from each source that I found impactful as well as a brief description of its overarching ideas.
Read more about my thesis research here.

Download the zines to print at home here.