Tomorrow's Book: Artifacts in the Anthropocene

Design Research, Publication, Sustainable Methods, Visual Communication, Web, Writing




ABSTRACT

The Anthropocene is our current epoch in which the Earth's environment and residents are heavily impacted by human influence. While many people recognize the possible future effects of Anthropogenic change, such as rising temperatures, biodiversity loss, increased levels of atmospheric carbon dioxide, and extensive waste, it can be difficult to imagine how the world might actually alter. Narratives allow us to weave diverse ideas together to relate to the experiences of others and grasp abstract information. Design can also act as a storyteller—speculative designers bring attention to present societal issues while designing artifacts for the future.

What artifact could be better to tell stories than the book? It has been a notable part of many human histories, from stone tablets to the printed page. The book's form often reflects the current technological and cultural points in many societies, so what forms will it take in the future?

This thesis explores the creation of three books that address future Anthropogenic projections: extensive waste through a nature poetry anthology, biodiversity loss through a cookbook, and increased levels of atmospheric carbon dioxide through a field guide. These iterations use design as a storytelling tool to make these distant challenges more approachable and personal, communicating to readers how their futures, as well as the book's, will need to adapt to the changing world.

COMPLETED

June 2021, Master of Design Thesis at the University of Washington

COLLABORATORS

Annabelle Gould, Thesis Chair

Jayme Yen, Thesis Committee

Audrey Desjardins, Thesis Committee

SEE MORE

Read the stories. Read full thesis publication.Read commentary by Heidi Biggs.Read the about the thesis process on Medium. See the books in the Seattle Art Book Fair UW Studio Tour.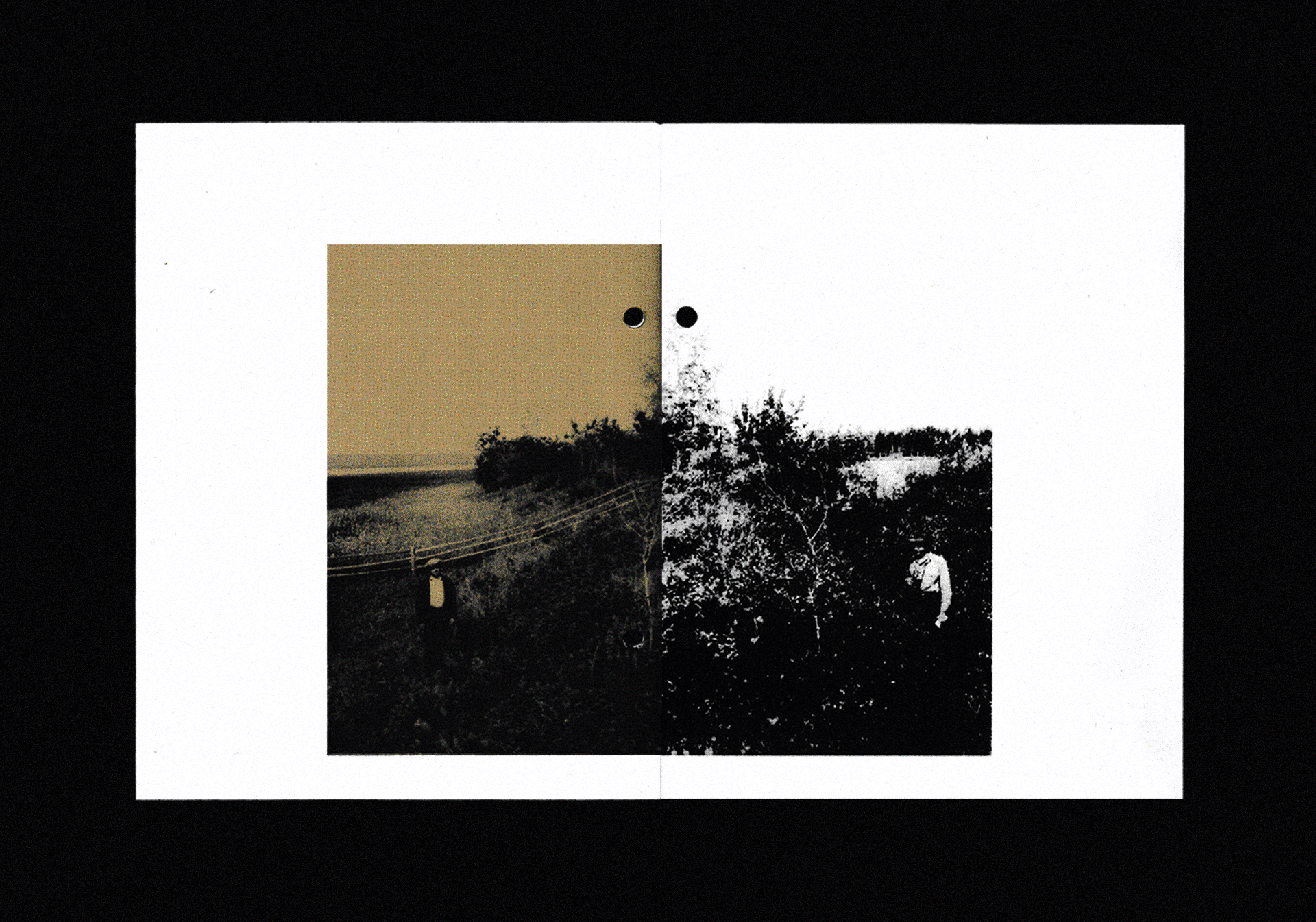 RECIPES FOR SCARCITY
Recipes for Scarcity is a cookbook from Jonesboro, Arkansas in the year 2133, passed down through a family for generations. It focuses on projections of biodiversity loss, where insects (including pollinators) have been completely eradicated. Because of this, produce is much less accessible, changing the way people eat.

Recipes are annotated and adapted over time to replace inaccessible foods with ones that are easier to find. They feature different sets of handwriting to show the progression of disappearing foods over various periods of ownership. Seeds are stored in packets within the pages.

The cookbook acts not only as a way of protecting disappearing biodiversity, but as a preservation of family traditions as well.

ADAPTIVE GUIDE TO THE DEEP TREES
This field guide is from the Deep Trees, previously known as the Olympic Peninsula in Washington State, in the year 2251.

Carbon dioxide levels have increased substantially—not just affecting humans, but plants as well. As levels rose, plants began to grow faster and thicker due to increased photosynthesis. While some areas of the United States developed hot and dry conditions, others experienced heavy rainfall that supplemented this green growth. Communities began to move into these rainy forests, which provide a shelter from hotter temperatures and act as bubbles of breathable oxygen for people. While these forests protect these communities, they also shroud them in darkness—with such dense growth, little sun is able to shine through anymore.

This book features an imagined use of bioluminescent technology, visualized with glow-in-the-dark ink, so that the reader could use the guide even in the darkest corners of the Deep Trees. Between larger spreads are smaller ones that provide technical terms and diagrams, so that readers do not have to flip between the front and back pages in the dark to find the information they need.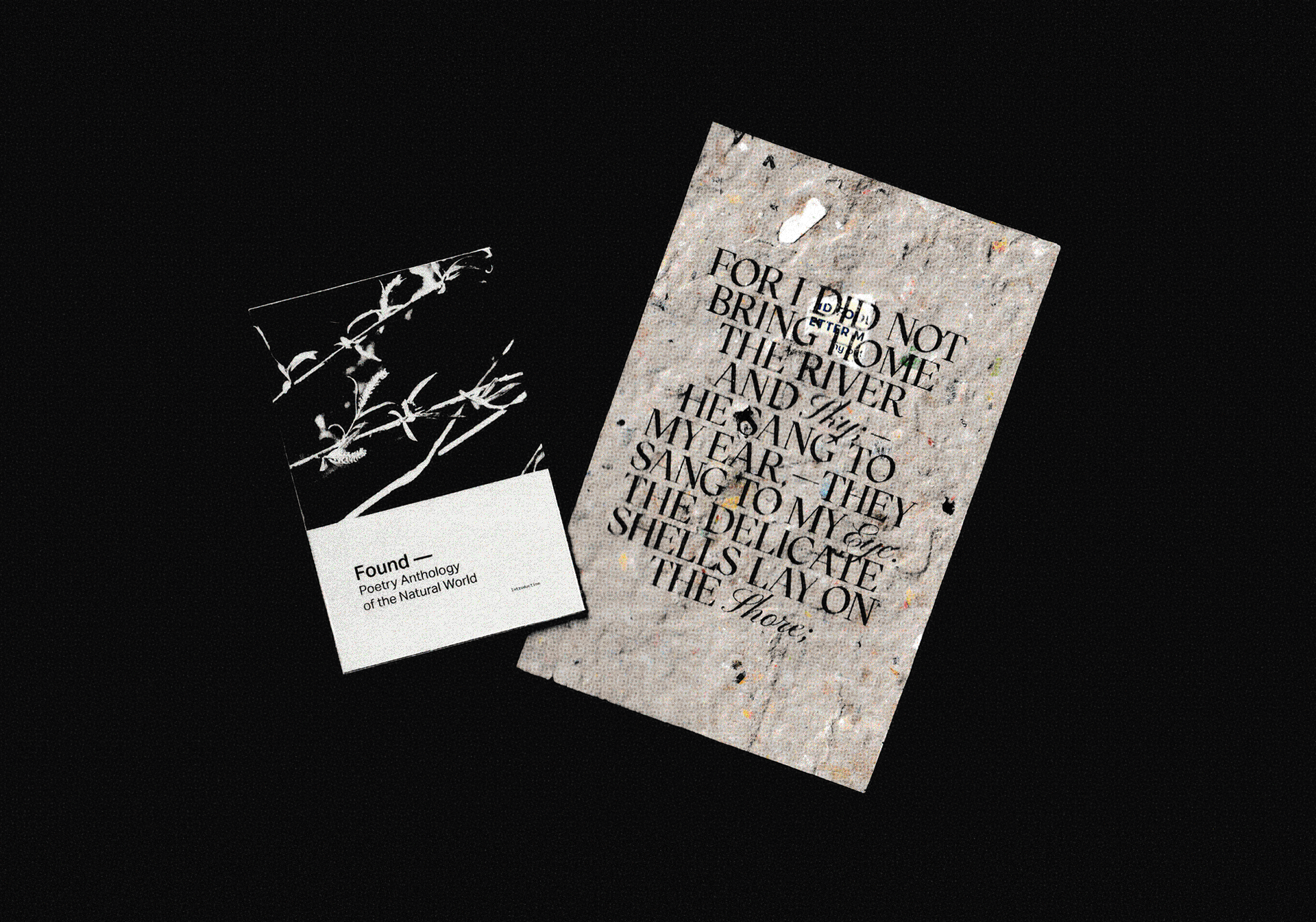 FOUND—POETRY ANTHOLOGY OF THE NATURAL WORLD
This poetry book is from an Artificial Island off of New York City in the year 2105.

As more human-made objects were produced to be disposable, it became difficult to keep up with safely destroying waste and finding enough space to dump incombustible materials. People have relied on artificial islands which are made of compounded, incinerated, and shredded trash built in the ocean. Artificial islands help reign in waste from these dense communities while also providing more living and recreational areas. Residents are encouraged to be as self-sufficient as possible—reusing what they can find to serve a new purpose.

Pages made from found pieces, from the brown paper that I made from reusing newspapers, wrappers, packaging, small plastics, etc. These are layered with plastic sheets to create a feeling of abundance, along with six typefaces to continue this idea of excess.

Pages can have up to four poems on a single sheet at once and are loosely held in a cardboard case to allow a reader to start while its being completed, since collecting found materials would slow the production process.
HENRY ART GALLERY EXHIBIT
All three books were exhibited at the Henry Art Gallery as part of the 2021 MFA + MDes Thesis show as part of fulfilling the Master's thesis requirements.